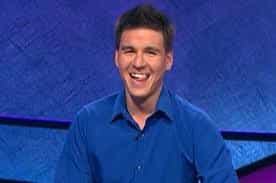 Meeting in Vegas? Jeopardy phenom James Holzhauer will be your STAR special guest!
"If you're looking to enhance your next Las Vegas agenda without breaking the bank, we've got 2 special guests that your attendees won't want to miss!
Jeopardy! phenom James Holzhauer is a professional sports bettor based in Las Vegas, and his surprise appearance on stage with your executives or leading a trivia contest with your attendees will be timely and exciting. James finished his Jeopardy! streak just $58,000 shy of Ken Jennings' record $2.52 million haul on the show. He's a major humanitarian in the Las Vegas community and everyone will immediately recognize him.
Jeffrey Ma was a member of the famed MIT Blackjack Team and he was the inspiration for the book Bringing Down the House and the feature film 21. Jeff is a serial entrepreneur who shares game-changing insights on Innovation, Strategy, and Risk to corporate and association audiences all over the country, but he can also discuss the art of counting cards. His latest book The House Advantage: Playing the Odds to Win Big in Business was a New York Times bestseller. Speaking video here: https://www.youtube.com/watch?v=nhetf2ROSOI "