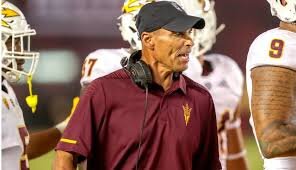 Business lessons from the sidelines with Famed Coach Herm Edwards
"Having been in this business over 30 years booking the true legends of sports—from Olympic Gold Medalists to NBA Champions, Everest summitteers to Tennis legends, Super Bowl heroes and more—you'd think that we'd heard every analogy made between business and sports. But that thinking just doesn't get old.
We were on a pre-event conference call this morning with legendary football Coach Herm Edwards–currently the Head Coach at Arizona State University. We've booked Herm for one of his high-energy motivational keynote speeches next month in Scottsdale, and our customer wanted to share with him some insight to this audience and to their company.
When Herm was asked for his advice on multi generations working together at an organization, he simply replied ""That's a senior and that's a freshman on my football team. If you want to get to The Rose Bowl, we all need to work together as a team.""
When asked how he motivates the older guys on his team to work even harder, Herm replied that he tells his older players ""We are recruiting kids out of high school right now who want your job.""
When told that this company had just had a stellar year and what Herm's advice was for getting this sales team to do even better this year: ""There's a standard of performance set when you compete. You've now set the standard high and we have to compete to that new standard. The goals just moved.""
This was a powerful call from a strong motivator with a brilliant mind. If you're looking for a great sports motivational speaker for your next meeting, we've got you covered. "