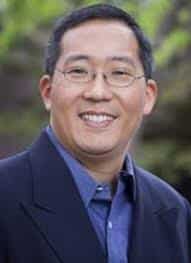 Tech entrepreneur and keynote speaker Chris Yeh: One speaker's pivot during Covid-19
"Chris Yeh is an impressive keynote speaker, author, investor, and mentor who's gained a huge following in our lecture industry. He spent time employed by the creative think-tank Ideo and with his good friend Reid Hoffman (the founder of LinkedIn), Chris wrote 2 bestsellers: "Blitzscaling" (the secrets to starting and scaling massively valuable companies) and "The Alliance" (teaching managers how to hire and manage talent in today's free agency world). Like everyone in today's business world, Chris has had to pivot his business of speaking at live events—-and he shares ideas for companies to maneuver now as well.
Chris has always been a pioneer. His career is noteworthy because as the Internet commercialized in 1995, he rode the wave of technological innovation to become known as a thought leader. He survived the Dot Bomb era and continues to thrive to this day by following his core principle of always making the most-interesting choice. He's given presentations at over 1,500 major corporate events. Even before the pandemic, due to the limits of his time, he often attended events and gave his presentation through a virtual live streaming connection. He is one of the very well-positioned few who already had embraced virtual streaming technology. It was very easy for Chris to shift his focus to virtual-events only.
Over the past 3 decades, Yeh has counseled hundreds of technology startups that had to break through even in extremely challenging environments. He recommends that everyone and every organization make a pivot to digital in as many ways as possible. Rather than seeing this moment as overwhelming, there is also the possibility of developing new communication methods that work better and continue to be useful even after this crisis subsides.
There are five principles developed by Chris Yeh for organizations to weather this crisis:
Accept and embrace the "new normal," even though this is an abrupt disconnect from the past.
Move into acceptance as rapidly as possible. Adjust expectations severely and intensely without holding on to the past. Incremental adjustments only delay getting on the path toward new-found success.
Wholly, and without resistance, deal with the grief over what is lost. It is understandable if the grief is over losing a loved one. That overwhelming pain is beyond belief. Everyone deals with such grief slightly differently, yet all need to allow themselves time to grieve. There are other losses, which also cause grief, such as the loss of a job, the disruptions of personal life, or not having the ability to do things as before. This causes grief too.
Try to accomplish something, no matter how small, to serve as a reminder that you are not helpless. Many are taking downtime from other responsibilities to learn something new. Avoid wallowing in helplessness because that leads to a lack of activity, despair, and depression. Fill the empty space with helpfulness as much as possible because this results in outcomes that are more positive.
Build enthusiasm with momentum by finding the areas where you have the greatest leverage. After you get past the initial shock of the major life disruption, find ways you can maximize your positive impact.
And here's how keynote speaker Chris Yeh approaches his personal pivot to Virtual:
1. Be clear that you offer virtual versions of your existing services. Chris added a section to his website that explicitly lists virtual options, including versions of his popular keynote speeches.
2. Design new virtual-first offerings. Chris added special leadership and strategy sessions. These are smaller-group sessions to help key leaders figure out how their companies should respond to the pandemic.
3. Explore new business models that are suddenly relevant because of the current situation. The traditional business model for a public speaker is that the organizers of an event want to provide a high-brand experience. They can pay well because the cost of the speaker is tiny in comparison to the overhead of holding that live event.
During this pandemic, events are forced to go digital. This reduces the cost of organizing the event, feeding attendees, housing them, and getting them there. And it eliminates the need for speakers to travel. This allows for more bigger, lower-cost events where the reduced fee of a speaker will fit in nicely.
Here's Chris Yeh speaking at a live event: https://www.youtube.com/watch?v=1HfaxMEIPAE He's affordable and will tailor any program to your specific themes or audience. And to help your home-based entrepreneurs get excited to come up new ideas, he's the perfect keynote fit.
#ChrisYeh #KeynoteSpeaker #LeadershipSpeaker #TechSpeaker #BusinessSpeaker #VirtualSpeaker"