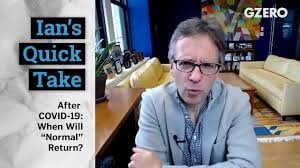 Ian Bremmer addresses "After Covid-19, when will Normal return?"
A frequent lead speaker at The World Economic Forum, Ian Bremmer is an American political scientist, best-selling author, global risk assessor, and President of The Eurasia Group–a political risk research and consulting firm. He's one of the most requested speakers in America on the Global, Political, and Economic landscapes, and his powerful insights to current and future economic and political trends surrounding the Covid-19 crisis have put him at the forefront of every international media outlet on a daily basis. His insights have received standing ovations from the likes of TD Ameritrade, SAP Software, ASIS International, The World Economic Forum, and The Alternative Investment Summit. And this September he's addressing the UN General Assembly.
Mr. Bremmer's virtual programs are insightful and geared to each specific audience. Here's a recent Zoom keynote: https://m.youtube.com/watch?v=2CjXoJMmkpM . This is a presentation geared to your company and your industry that your team won't want to miss. We're proud to represent keynote speaker Ian Bremmer for corporate speaking engagements. Let's look at your virtual meeting calendars soon to fit Ian Bremmer on your next agenda.