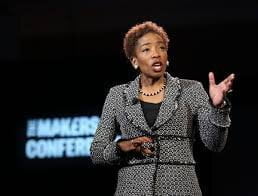 Corporate Leaders Share Lessons on Diversity and Inclusion
So many of our meeting keynote speaker requests lately are looking for key ideas of how companies and executive leadership can make lasting change on Diversity and Inclusion. Rave Speakers exclusively represents Global Directors of DEI from Hyatt Hotels (Tyronne Stoudemire) and Microsoft (MJ DePalma). We are prepared to assist you with your search for an important speaker on Inclusion with Tyronne and MJ as well as these high-profile audience favorites who are hugely popular on the topic in a moderated audience Q&A setting include:
Carla Harris Vice Chairman, Morgan Stanley Inclusive Leaders and Inclusive Business Strategies Carla Harris is a high-powered Wall Street executive whose mission it is to conceptualize inclusive business strategies and share proven tools for successful change. This important TED talk gives a feel for Carla at the podium: https://www.ted.com/talks/carla_harris_how_to_find_the_person_who_can_help_you_get_ahead_at_work?language=en
Emmanuel Acho Former NFL star and FOX Sports Host Uncomfortable Conversations With a Black Man https://www.youtube.com/watch?v=h8jUA7JBkF4 This informative video was made to educate and inform Americans about racism, social injustice, and system racism—and it's turned into a series of YouTube conversations and a book (thanks to his business partner Oprah Winfrey) due out in November 2020.
Magic Johnson Billionaire businessman and NBA Legend Magic's discussions of making changes in our business culture come from years of experience on the front lines dealing with diversity and racial injustice https://www.ravespeakers.com/magic-johnson
Cynthia Marshall General Manager, Dallas Mavericks Changing a Toxic Culture within an Organization Cynthia is passionate about making changes in organizations TODAY; get a feel for her drive with this keynote speech: https://www.youtube.com/watch?v=8VQCqGT_0vE and this important article https://www.cnn.com/2019/09/30/success/dallas-mavericks-ceo-cynthia-marshall-boss-files/index.html
Dr. Jack Thomas President, Central State University Understanding and Uncovering Unconscious Bias Dr. Those himself was a victim of Systemic Oppression in his former role as President of Western Illinois University https://diverseeducation.com/article/147713/
http://www.wiu.edu/news/newsrelease.php?release_id=14588
Van Jones CNN Host and CEO of Reform Alliance Van's outspoken views on policy that could help fight systemic racism were most recently noted on an appearance on Conan: https://www.hollywoodreporter.com/news/van-jones-calls-right-left-come-together-act-protests-1296767