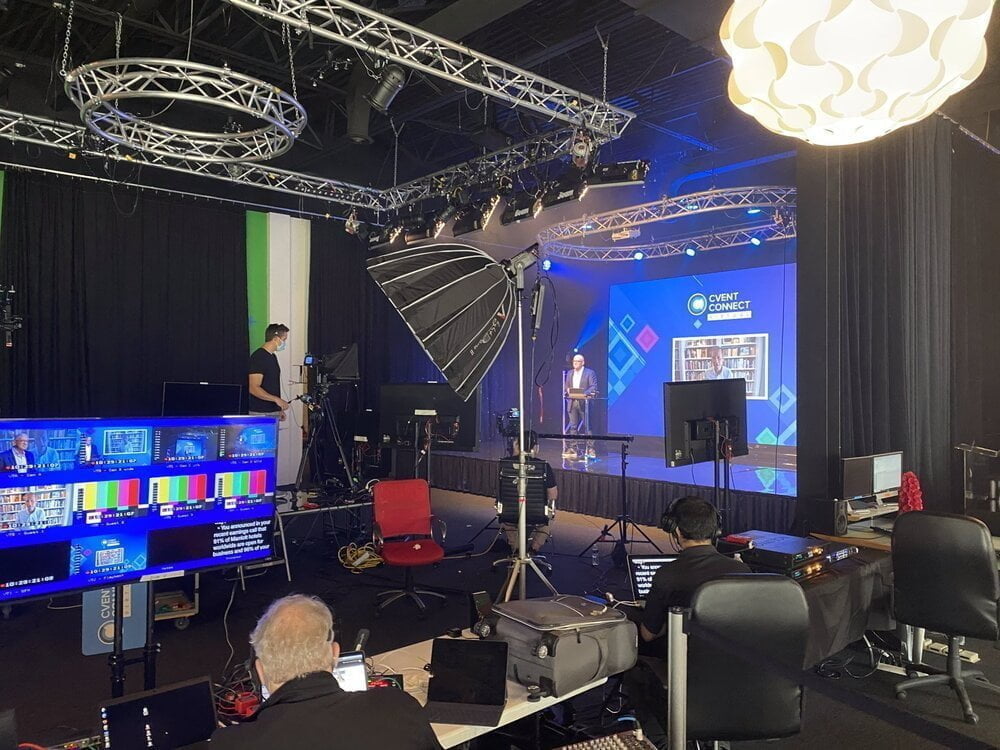 Meeting Professionals Ask: The 3 different formats for a Virtual Keynote Speech.
"This afternoon, famed mountain climber Alex Honnold is pre-recording a 45-minute speech for a group of printing industry retailers. Why Alex Honnold? He's the Academy Award-winning "Free Solo" climber who took on Yosemite's El Capitan with absolutely no ropes or ties. To address a group of sales people who think they are in the midst of Adversity, Alex talks about the preparation, drive, passion, focus, and delivery that it took to master this one-of-a-kind adverse experience. But the format of this virtual keynote speech by Alex Honnold is what interests meeting professionals today—as there is certainly more than one option when it comes to sharing a virtual story with a viewing audience of attendees.
Virtual Keynote Format #1 THE PRE-RECORDED KEYNOTE: Beyond "Why Alex Honnold?," the question becomes "Why Pre-record?' As the option of pre-recording a virtual keynote speech becomes more mainstream today, the answer is simple: Alex shows up to Chat live with viewers AS THEY ARE WATCHING his 45-minute pre-recorded keynote speech being played back. No more need to wait until the end of the speech and hope that your raised hand gets picked. No worry that you'll forget what that question you wanted to ask was. Here's Alex being introduced to your viewers as soon as the session begins with a big Chat Box message: HEY EVERYONE—ALEX HONNOLD HERE WITH YOU LIVE TO ANSWER ANY QUESTIONS YOU MAY HAVE!"
I was skeptical about this format when it was first presented to Alex and to me a couple of months ago when Dell Technologies wanted to do the same thing for 10,000 online viewers. But when it was explained to us that these viewers were used to this format with other industry speakers, our interest was piqued. And as hundreds of questions started Chatting their way towards Alex once his online presentation began, I was amazed as Alex went back and answered every single question without missing a beat.
Turns out that many of our customers who book virtual events are booking them as pre-records or a hybrid of a pre-recorded keynote and live Q&A session. But I'd say that overall it's about 75% fully pre-recorded talks that get booked now.
The reason that meeting professionals are particularly leaning to pre-recorded keynotes or pre-recorded moderated keynotes is two-fold. First, it gives the sponsoring company the chance to see the keynote in advance and as such, allows them to plan how they'll want to frame it and make best use of it within their program. A storyteller like Alex Honnold or Good Morning America hosts Robin Roberts or Michael Strahan are what we call metaphor-style speakers and those precious stories allow your team the chance to springboard right in to your overall meeting messages (and post-meeting messaging).
Not to mention that handing your keynote speaker the questions in advance also gives you the ability to continue to direct how the keynote is going to go.
The other advantage to the pre-recorded virtual message is that these events can and do have day-of-event technical issues and having your virtual keynoter ready to speak live is nevertheless fraught with issues you can't control. The more you can reduce the variables of things that can go wrong, the better.
As many meeting professionals look to Hybrid meetings in 2021 and beyond, no doubt that in this brave new world the pre-recorded keynote is taking center-stage.
Virtual Keynote Format #2 THE "LIVE" KEYNOTE SPEECH: The look of a virtual keynote you'd expect is just that: a 45-minute keynote speech, followed by 15-minutes of audience/viewer Q&A. Although this format may not be as awkward to your keynote speaker as the format described earlier (since Alex Honnold was effectively speaking directly into a camera for 45-straight minutes with no ability to judge his audience's reactions), it is still the preferred method among both speakers and meeting professionals. Depending on the look of your online event, your keynote speaker has the ability to see audience reaction and that many times helps with the flow of the speech. Any entertainer you hire—-a meeting emcee like Juggler Jeff Civillico or an amazing Magician like Justin Willman or America's Got Talent star Mentalist Oz Pearlman—will want to be virtually LIVE with your audience at all times.
The format however that is making huge advances is Virtual Keynote Format #3 THE "LIVE" MODERATED KEYNOTE SPEECH: Favored by speakers who typically can ask to review questions prior to the event itself, this format offers up a moderator to ask questions of your speaker. And that moderator is chosen by the company sponsoring the meeting—many times it's an executive with that company. The advantages obviously are that the moderator can effect the flow and timing of the keynote speech, and audience Q&A can be interjected either during or after the "keynote" session. Some meeting professionals refer to this as a Fireside Chat format, and the speaker herself can share questions with that moderator that make the "Chat" feel more like a "keynote."
Whether you choose to have your speaker pre-record her message, or you decide to hand that microphone and Zoom access directly to your keynote, or you allow your speaker to "share the stage" with a moderator for an hour, the virtual keynote speech is an effective way to educate, inspire, and entertain your team. We're excited to hear more about your next meeting agenda needs. "