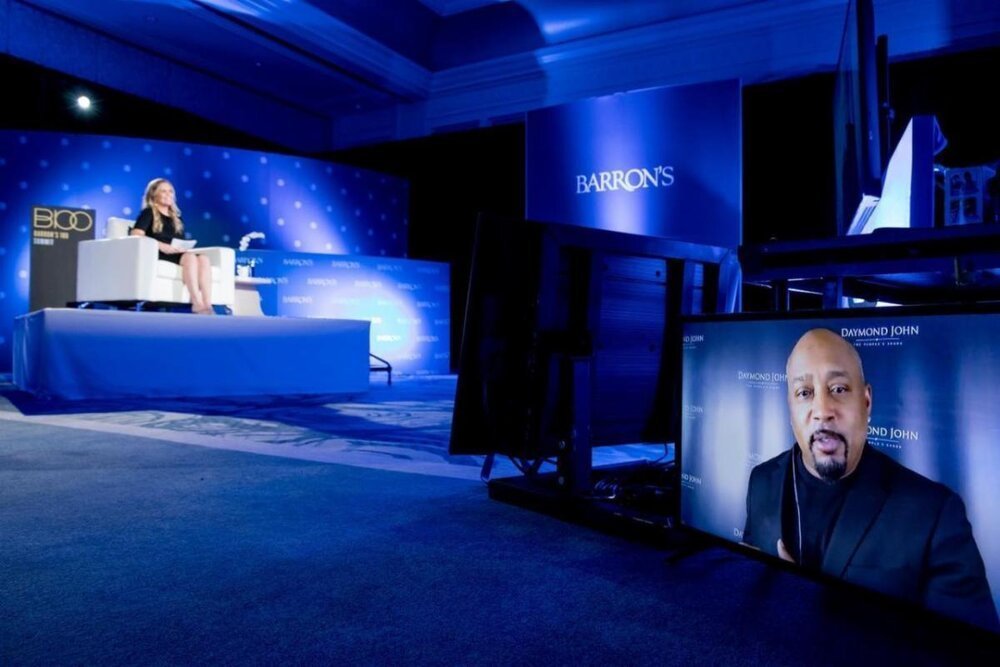 Shark Tank Star Daymond John takes his affordable Inspiration right to your at-home workforce
""The People's Shark" Daymond John opens the microphone for customers of online advertising agency Postclick. He's the star of the virtual meetings arena, and when you have the chance to join as many Zoom and Webex and TEAMS and On24 calls with Daymond John as we have in the last year, you can see how hard work paid off in a big way for a young man who didn't start with much of anything. And Daymond tells stories of rejection and frustration and making multiple pivots in his life. This audience had great questions for this superstar from Shark Tank, and Daymond took the time to answer each question in-depth. Here's a great preview tape if you're considering a Star Tank star to keynote your next meeting—either virtual or in-person: https://www.youtube.com/watch?v=Z6aVJnzHdFI
Shark Tank star Daymond John highlights Barron's Virtual Advisor Summit. These meeting professionals were looking for a highest profile motivator to share stories of success with their audience of top clients. Daymond didn't disappoint. With his Five Messages of Business Success as the lead-in for this appearance, Barron's had Daymond on a virtual stage in a moderated setting with questions from the Barron's executive on that stage as well as from the audience.
Daymond John's FUBU Clothing success story has made him an international business superstar and a social media influencer. His inspiring Leadership lessons boost our creativity and our ingenuity. Easy to see why he's an audience favorite–and a meeting professional's dream keynote.
Daymond John reminds us that challenges boost our creativity and our ingenuity. The at-home workforce has created a tribe of self-starters and entrepreneurs–perfectly fitting into Daymond's wheelhouse. In his live session with your company he'll inspire with 5 messages of business success:
With a good idea, passion and a committed work ethic, you can succeed even without financial resource
The first failure doesn't have to be final.
Keep as much equity in your project as you can–you don't want to be working for your investors.
A crowded market can still be disrupted.
Expect to be in it for the long haul. Step by step by step.
Let's hear about your 2021 virtual dates for this heavily discounted celebrity. "